About Alfa Sport
Alfa Sport is the result of over 30 years professional experience repairing, maintaining, and modifying Alfa Romeo Automobiles.
I began working on Alfas in 1966 when I purchased a 1962 Giulietta spider. After graduating college in 1972, went to work at Knauz Continental in Lake Forest, Ill. I Opened Alfa Beta Werks in Geneva Ill. In 1975, then founded the #1 Alfa Shop in Los Angeles, Omega Motorsports in 1980. I operated Omega Motorsports for nearly 20 years, and am currently operating Alfa Sport in my newly constructed shop in Scottsdale, AZ.

I have owned 53 Alfa Romeo automobiles, and garnered numberous race, autocross, and concourse victories with AROC, VARA, Midwestern Council, and the SCCA. I am a former technical advisor for the Southern California Alfa Owner's Club, and am currently the Technical Editor of AlfaCentro.com.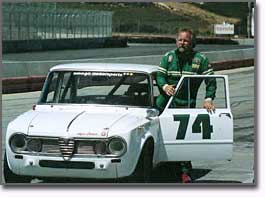 Rex with the TI at Laguna Seca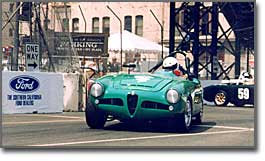 Rex in the LA Gran Prix