Alfa Sport is the result of over 30 years professional experience repairing, maintaining, and modifying Alfa Romeo Automobiles.
Today, that experience allow us to provide you with the best possible service for your Alfa - whether you are looking for routine maintenance, mechanical restoration, a performance rebuild, or full race preparation.
Let's not beat around the bush: cars prepared by AlfaSport are FAST! And, they handle and stop as well as they go. But, they are also built to give many years of dependable service. When properly maintained, they will last as long or longer than the standard article.
Our experience ranges from the 1900 to the 164, and covers all aspects of these vehicles, including: engine, transmission, suspension, braking, and electrical system work.
Give AlfaSport a call today to see how we can be of service to you!

Get Back on The Road FAST!
Our rebuild program gets you back on the road with a top quality rebuilt unit at a very competitive price. We often have freshly rebuilt transmissions and differentials in stock ready for shipping. Since most Alfisti want something other than a stock engine when it's time for a rebuild, each engine is built to the customer's specifications.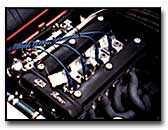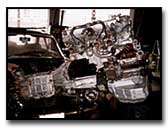 AlfaSport's fine rebuilds